Bike Hire
Bike Hebrides is the bike hire operator offering a large fleet of hybrids and e-bikes.

E-bikes have become a real enabler for those who enjoy the activity of cycling and require some pedal assistance for the hills and inclines, wind or want to go longer distances.

Our bikes are available for one day hire or multiple days. They come with a helmet, basic toolkit, spare inner tube, lock and pump. We also provide panniers.

You can collect your bike from our shops in Stornoway and Balivanich. Or have our transfer service drop off your bikes at any destination in the Outer Hebrides.
Hebridean Way Bike Hire Package Deal
For this adventure challenge we have designed an all-inclusive package:

1. Your bike will be available on Barra when you arrive to start your Hebridean Way cycle trip.
2. It will have 2 panniers, a helmet, a spare inner tube and toolkit.
3. You will receive the ferry tickets for the two ferry crossings from Barra to Eriskay and Berneray to Leverburgh.
4. On arrival in the Butt of Lewis, you will be transferred to Stornoway.
5. You will receive a free comprehensive guidebook "Cycling the Hebridean Way" from the Offcomers.
6. Support and breakdown and recovery service, including replacement bike.

This all-inclusive package is £41.25 per person per day for a 5 or 6-day road cycle trip for a hybrid bike and £54.45 for an e-bike.

From Stornoway, we have all the transfer services available for you to travel back home. Depending on your requirements, you can fly back to your destination, take the ferry to Ullapool/Inverness or be transferred to Tarbert for the ferry to Skye or Barra for the ferry to Oban/Glasgow.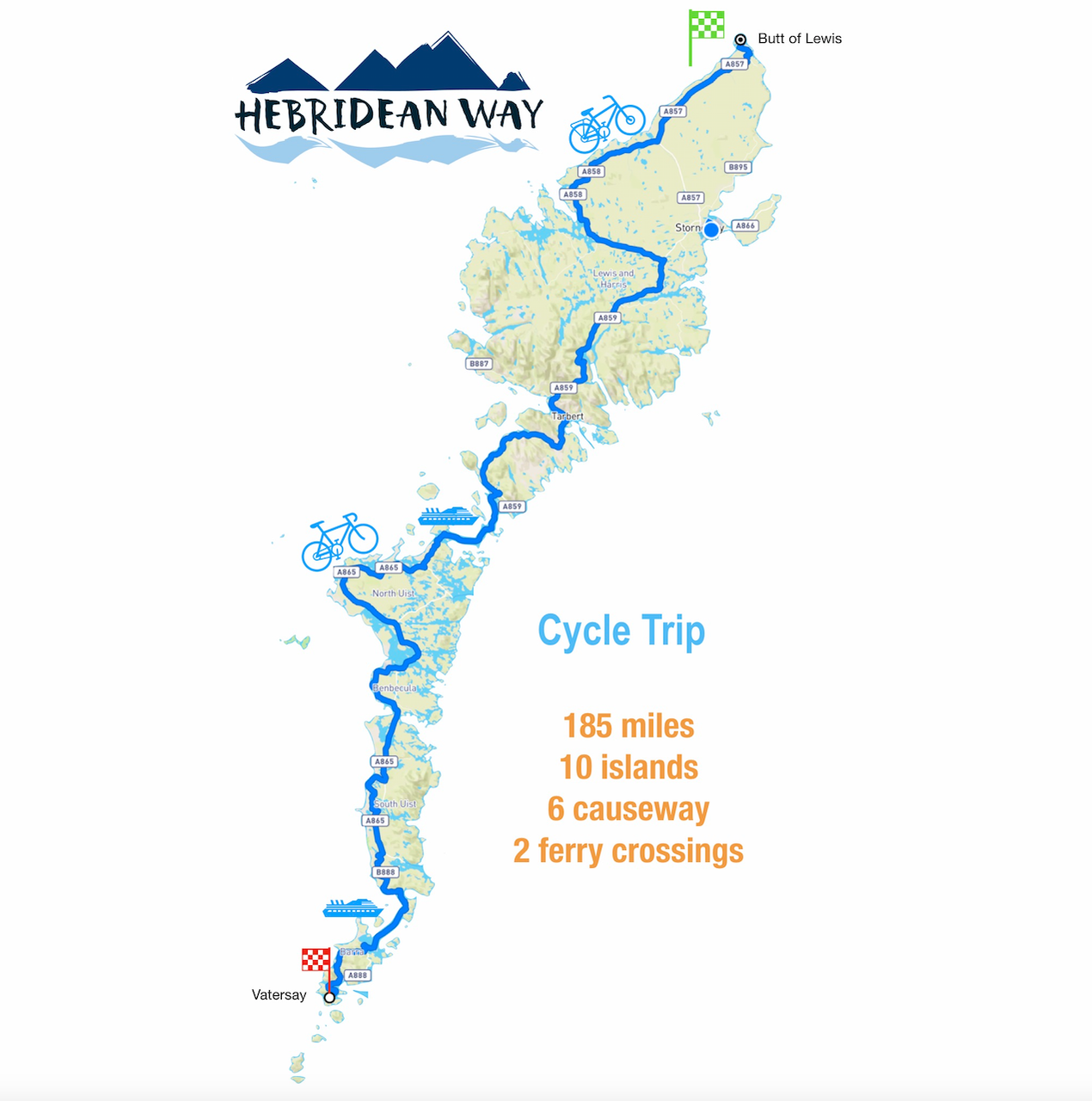 Day tariff for a hybrid bike is £27.50 per day/24 hrs and £22.00 for any additional day/24hrs.

E-bikes can be hired for £45.00 per day/24hrs.

Panniers are available for £5.50 per day per set of 2.

Costs will apply to transport your hire bike to your required starting location.

Terms and Conditions apply.